Site Content
1. Page "MODEL"
2. Page "Data" includes Fig. 1, 2
3. Page "Forecast" includes Fig. 3, 4
4. Page "Appendix 1" includes Fig. 2 new, 9
5. Page "CONCLUSION" includes Fig. 5
6. Page "Appendix 2" includes Fig. 10
7. Page "Appendix 3" includes Fig. 6, 7, 8
5. Page "References"
A Guide book through SG-model SSN time series superposition of Gaussians (SG-) model
SAE (a Solar Activity Episode), see Solanki et al., 2005; Usoskin, 2008; and (9,7) in the page "Model".
GM (a Grand Minimum of solar activity, for example, "Maunder GM" (1645 - 1700))
GL-cycle (a special kind of the Gleissberg cycle), see fig.2 and (6) in the page "Model"
GL-peak (any one of two components of GL-cycle)
S-cycle ( 11-year solar cycle, presented in SG-model by M-data)
M-data (monthly averaged sunspot numbers (SSN))
U-data (a slightly smoothed M-data), see (1) in the page "Model"
K-data (a very smoothed M-data)
The normal (Gaussian) presentation of S-cycle's components, see (2) in the page "Model"
P-, B-, and D- components (see (4,5) in the page "Model" and table 1 in the page "Data") of K-data (K-peaks)
U-peaks of U-data (see (3) in the page "Model")
See parameters of K- and U-peaks in tables 1 and 2 in the pages "Data" and "Conclusion" and the average S - cycle (<S>) as (10)
SG-model forecasts (#SGFs) - # means a S-cycle's serial number.
"Climatology": S-cycles can be of 4 types - US-cycles, DS-cycles, HS-cycles and LS-cycles. Each type has the own specific shape.
The height of P-component follows GL-cycle, shown in fig.2.
#SGF:GL - this type of the primary forecast actually is a more or less long extrapolation made before the beginning of the next S-cycle. It based on averaged previously received parameters. For example, 24SGF:GL was made in 2006, two years before the S-cycle #24 beginning, and 25SGF:GL was made at the end of 2015. As for "classification", #SGF:GL includes features of climatological, spectral (and statistical) forecasts.
Right after fixation of the new S-cycle start, the secondary "precursor type" #SGF:GL/WO is made. It allows to correct the predicted height of the next S-cycle. Furthermore, on its base the opportunity for #SGF:U appears.
Those three kinds of forecasts exhaust the predictive potential of SG-model relatively S-cycle. At the same time we should not forget about the possibility of GL-cycle's extrapolation (GL#:F). For example, at the current time attention is focused on the GL.4.1 - peak's shape (see figs. 2 and 2new), i.e. on GL4.1:F.
During S-cycle evolution an exciting time of comparing predictions with observational data coming exhausts the nerves. Simultaneously recognition of discrepancies and trials of their explanation definitely contribute to the improvement of the model. Nevertheless, the final comparison can be made only after the current S-cycle's end. It consists in comparison of the forecasts with the final S-cycle descriptions by #SGD:K (description of K-data) and #SGD:U (description of U-data), and its analysis.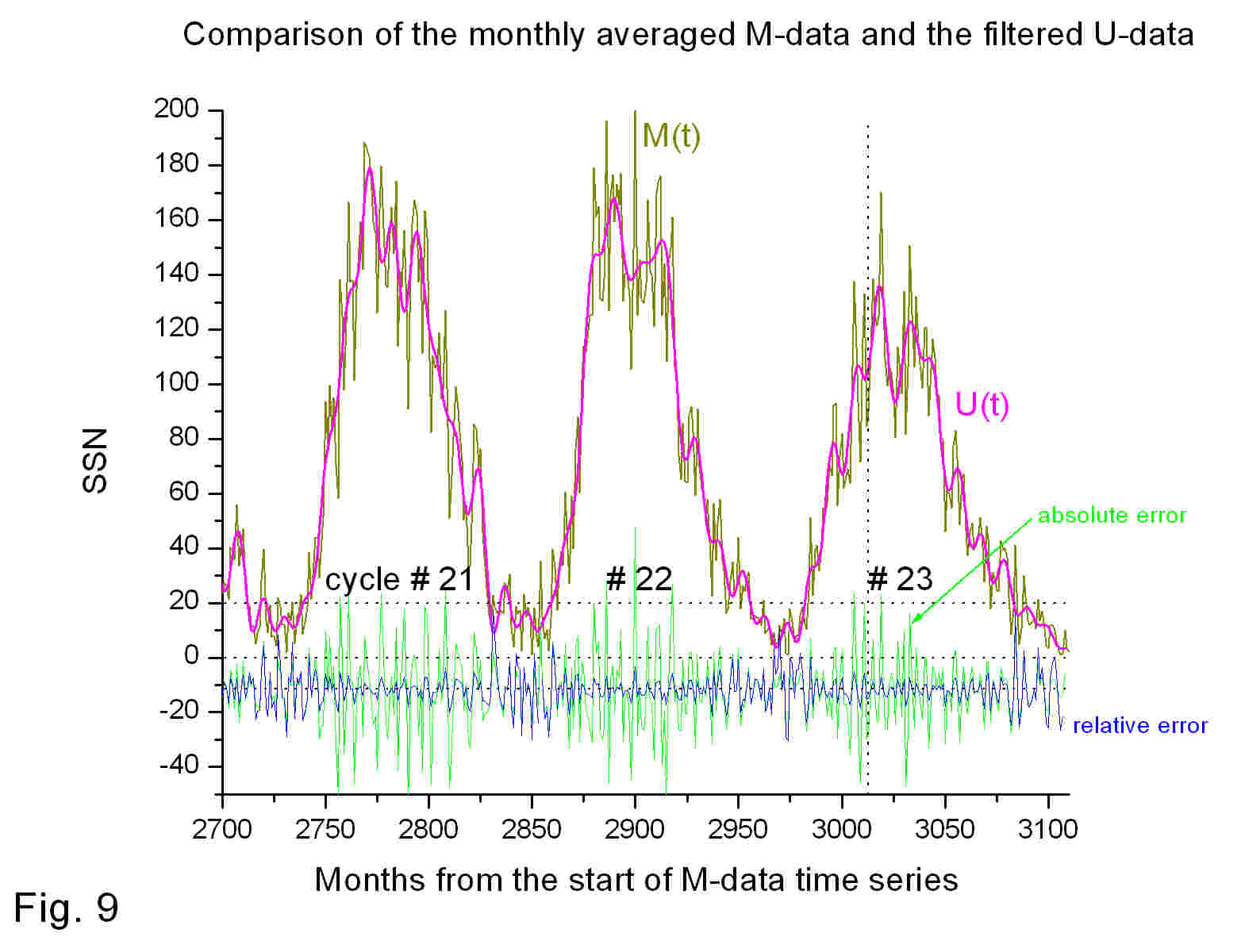 A1. σ = 11.83 (1) is just an estimation of random scattering of M(t) around U(t). The real comparison of M-data and U-data behavior is shown in fig.9.
A2. SG-model described here is carefully considered in Kontor (2006, 2008a and 2008b), and its critic can be found in Kontor (2008c). Particularly, anticorrelation of X D, i and H P, i is shown in fig.13 [Kontor, 2008a].
A 3. 1.w (for all components) is approximately equal (~33 months);
2. The component's heights >20;
3. H B is approximately constant (~56) and more than H D;
4. H P is volatile and its trend corresponds to the shape of G G L - peak (fig.2);
5. Mutual positions of components (x P , x B , x D) shape the final S-cycle's form.
6. S-cycles, arranged on GL-cycle similarly, have similar shapes.
7. S-cycles, arranged on the growth and maximum phases of GL-peaks, are short
( T 0, i ~ 120 months) independent on their heights; and
S-cycles, arranged on the decay and saddle phases of GL-peaks, are long
( T 0, i ~ 138 or 150 months) independent on their heights.
A 4. Three types of S - cycle: regular (R - cycle); distorted by small Gaussian errors of parameters (D - cycle); and abnormal (chaotic) cycle (A - cycle). This classification is due to the relation of observed S - cycles to their regular forecasts. Comparison of previous S - cycles (# 1 - 23) with their regular forecasts shows that the majority of S -cycles corresponds to D - type. And only 3 cycles (# 12, 15 and 19 ) probably correspond to A - type. The main cause of the anomaly is a significant deviation (more than three sigma) Hp from its regular forecast. Physical causes of that are not known. In fact, the solar cycle is apparently a manifestation of a weakly chaotic dynamical system, the physical structure of which is still poorly known (for details about the problem of weak chaos see [Dyson, 2009]).
Updated: 08/10/2010
A 5. 2015 - a year of great change in SSN data. Announcement from WDC - SILSO: "Since July 1st 2015, the original Sunspot number data are replaced by a new entirely revised data series... Data Credits: The Sunspot Number data can be freely downloaded. However, we request that proper credit to the WDC-SILSO is explicitly included in any publication using our data (paper article or book, on-line Web content, etc.), e.g.: "Source: WDC-SILSO, Royal Observatory of Belgium, Brussels". Thus, now at our disposal there are two types of SSN - data - the old (R. Wolf's, for example, M OLD - data) and new (for example, M NEW - data) ones. Those data have a good linear correlation - (M NEW - data/M OLD - data) = 1.427, what helps to transit from one type to another and vice versa. Using M O - data, I have got GL - variation shown in fig. 2. It shows "the position" and HP, i of S i - cycle. It allows (on the table 1 & 2' basis) to get 24 SGF: GL forecast or K*- data. After that, using the WO - forecast' idea, H**m, 24 = k (=1.26) · <PMF> (=56.1) can be received. With this in mind, it was built 24 SGF: GL / WO forecast, or K ** - data. Then, on the basis of K ** - data, 24 SGF: U forecast, or U**-data were built. As Mo – data become available (after t 0,24= 3120 (Dec. 2008)), an opportunity of K-data and U-data receiving becomes also available . As "a tail" of Mo – data U**- data were used. So, 24 SGD: Kt and 24 SGD: U t could be received. However, in 2015 SSN were predetermined so that new MN – data = 1.427 · MO- data. Since by that time S - cycle # 24 has surely overcome the maximum, it makes sense to finish it on the basis of MO - data. As for S - cycle # 25, it should be already described "in the language" of MN – data. For that "the old" 25 SGF: GL should be multiplied by 1.427, and then (when the time comes) H**m, 25 = k N (1.8 (=1.26 · 1.427)) · <PMF> could be received. After that K**- data can be immediately obtained. However for that you first need to calculate "the new" GL N – variation, beginning from S - cycle #23 (multiplying the corresponding interval of "the old" GL - variation to 1.427). Then everything goes according to the old algorithm, but with the new M-data. For example, the result of the transition from the old to the new M-data for Figure 2 is shown in Figure 2 new.