The page "Model" describes the SG - model in axiomatic form, since its background is described in detail in the preliminary (unfortunately unpublished) works of the author [Kontor, 2006, 2008a, b, c]. This is a purely descriptive, phenomenological model, but it has generality and a clear structure. This allows us to understand the variations of solar activity, described by the sunspot number (SSN), and to predict it. If SG-model turns out to be an effective means of analysis of solar activity, then the question of its physical justification may be put. The fact is that the mathematical basis for understanding the solar cycles is the system of Navier - Stokes and magneto-hydrodynamics equations , which consists of nearly two dozen equations. It is clear that such a complex system of equations can not be solved in the forehead, and it is required a significant simplification of it (leading to a loss of some essential physics). Such a simplification has been made in creating the modern theory of the solar cycle (the solar dynamo, see [Ossendrijver, 2003; Nandy, 2009; and Parker, 2009]).
However, the observations, including the SG-model, show that the true behavior of the real solar cycle is much more complex than this is suggested by the modern theory of the solar cycle. For example, the shape of any solar cycle can not be satisfactorily described by a one-humped asymmetric smooth curve. I.1. SG-model assumes that the solar cycle is a superposition of, at least, three one-humped symmetric curves (G-peaks). If so, you may find that the properties of the sunspots at different phases of the solar cycle are different.
The page "Data" displays the average values of main parameters of SG - model. This provides a description of the regular shape of a particular S-cycle, its regular forecast, and even the regular SSN time series. In using the term "regular", I mean such a state of solar activity, which is not distorted by stochastic/chaotic fluctuations of SG-model's parameters (which, of course, take place in reality). I.2. All this became possible thanks to the transition from smoothed to filtered data (using Fourier series) and receiving, along with the M-data, U - data and K-data. U-data are slightly smoothed in comparison with M-data and may be used as some approximation (1) of abruptly changing M-data. K-data are more smoothed than the generally accepted M13-data and it allows to get the good (indistinguishable to the eye) description of the active phase for any solar cycle (S-cycle). I.3. Another result was the realization that the first harmonic (5.5 years) of the main (11-year) peak in the Fourier spectrum of SSN time series can be related to w (width parameter) of G-peaks (2), superposition of which describes the shape of the S- cycle represented by K- data. From a consideration of 23 observable shapes of S- cycles it followed that the smallest number of G-peaks, included in this superposition, is 3. It meant that the number of free parameters should be equal to 9. It was the price to pay to obtain the low Χ2, i.e. the good (indistinguishable to the eye) description of S-cycle shape. I.4. Although in fact it was not all smooth (see comments on the matter on page "Data"), it is still possible to get the table 2 of all parameters for all 23 available cycles.
Table 2 of S-cycle's parameters (#SGD:KT)
A B C D E F G H I J K L cycle #
75 49.5 35.2 42.7 72.7 30.8 42.7 101.3 34.4 43.9 136 0.043 1
210 34.03 31.8 70.7 54.2 33 53.6 79.65 29.8 40.8 109 0.076 2
318 36.8 29.5 119 53.8 26 41.6 75 36 39 111 0.085 3
429 39.9 34.3 124.9 68.9 39.6 51 101.5 34.67 41.9 164 0.078 4
593 38.1 29.2 21.6 66.8 36.8 36.7 90.6 33 21.6 151 0.015 5
744 49.5 31.23 14.4 76.45 36 39.9 114 36 9.3 149 0.049 6
893 49.7 35.5 43.3 79.3 32.4 41.7 97 31 33.4 128 0.04 7
1019 35.7 31 99.3 56 30 66 84.2 33.2 37.2 117 0.083 8
1135 52 37.8 91.5 78.2 35.36 51.8 115.8 34 39.9 149 0.059 9
1284 44.1 32.85 74.7 69.1 34 50.4 105.2 31.2 37.4 136 0.083 10
1419 37.8 30 89.1 58.7 30.4 73.5 88.4 35.9 29.1 141 0.08 11
1560 32.2 37 31.6 57.3 34.1 46.8 82.4 39 24.6 135 0.013 12
1695 35.9 35.3 67 61.7 35 43.3 102.7 35.4 19 143 0.066 13
1838 35.1 32.1 41 63.4 34.95 43.7 88.9 31.2 24.5 138 0.025 14
1976 33.3 31 26.4 54.6 35.86 76.8 85.5 35.5 19.4 120 0.012 15
2096 36.8 33.3 47.9 61.2 35 52.4 91 31 18.1 122 0.043 16
2217 43.2 32.3 84 65.7 30.5 63.8 96 30 37.9 126 0.075 17
2342 43.7 33.25 129.9 67.3 31 61.3 92.5 30.15 40.2 123 0.098 18
2464 41.5 33.7 174.1 64.7 30.43 76.6 93.75 32.7 35.3 126 0.062 19
2590 41.9 36.8 87.3 70.8 37 63.6 105.4 34 35.2 140 0.061 20
2730 41.93 35.38 133.7 66.4 32.5 70.7 92.3 31.3 35.9 123 0.084 21
2853 37.8 34.42 139.3 61.9 32 61.9 85.4 30.8 27.7 116 0.084 22
2969 47.1 41.1 98.5 74.5 32.9 55.3 111.8 39.1 20.4 151 0.087 23
col (A) - t 0, i (months from the beginning of M-data series (January 1749)); col (B) - x P,i , col (C) - w P, i, col (D) - H P,i ; col (E) - x B,i , col (F) - w B, i, col (G) - H B,i ; col (H) - x D,i , col (I) - w D, i, col (J) - H D,i ; col (K) - T 0,i ; col (L) - Χ2. All parameters (except H P,i ; H B,i ; H D,i ; and Χ2 : they are dimensionless) measured in months.
Not trying to convince the reader of any special benefits of the proposed approach and not hoping to protect myself from the inevitable criticism (which is not always constructive and often is directed by the human factor), I represent here the results.
II. 5. First of all, it is H P,i (t) variation (see col (D) in table 2 and fig.2), which can be described (in accordance with the adopted approach (6, 7)) by the sequence of GL-peaks (2), the temporal distance between which changes periodically (from long one to short one and vice versa). Consideration of fig.2 allows to see in this sequence of the "Bactrian camel" of the Gleissberg cycle.
II. 6. It is seen from fig.2 that S-cycles in their positions on GL- cycle (which is actually represented in fig.2 as one of the possible images of the Gleissberg cycle) can be ascending (including maximum), or descending, or saddle ones (wherein the saddle cycles occupy either the upper (#1, 10, 20) or the lower tier (# - 4, 6, 15, 25). II. 7. It is obvious but very important that each of those types of S-cycles is characterized both its peculiar shape, and duration ((T 0,i ), see the page "Data"). From the point of view of possible deformations of S-cycle's shape, they can be "compact" (it concerns mostly the ascending cycles), "shifted" and / or "tailed" (this applies to both descending and saddle cycles, but not to all). II. 8. It is this last result (II. 7) allows transition of S-cycle's forecasts from the method of "averages" (when only H P,i (t) is predicted while other parameters are taken medium, see table 1) to the method of "analogs" (when only parameters of related similar cycles are averaged). Experience has shown that it significantly improves distinctness of forecast (see 24SGF and 25SGF in fig. 3 and 4). The joint analysis of K-data and U-data would complement the S-cycle forecast, represented only by K-data (see #SGF (K-data) in fig. 3 and 4), by #SGF (U-data). Zest of this latter prediction (#SGF (U-data)) is that II. 9. the U-peaks coinciding with the moments x P,i , x B,i , and x D,i , increase approximately 1.3 times as compared with other U- peaks, the height of which is determined by the value of K-data (t Um,i ). Using (1), #SGF (U-data) may be compared with the current M-data. II. 10. Another result is the possibility of working out a mutual option of "GL- and WO- forecast". SG-model shows that PMF reaches the maximum (PMF max,i ) during the period between x D,i and t 0,i+1 . Averaging PMF-data (Wilcox Solar Observatory Polar Field Observations, Avgf - data) for that period, we receive PMF max,i , which can be connected with H m,i+1 . It could be, for example, H m,i+1 = k * PMF max,i . Now we have k = 1.26 (1/microtesla); PMF max,23 = 56.1 (microtesla). This relation allows to predict H m,i+1 (for S-cycle #24 it is still 70.7); and to predict ("back") PMF max,i (for S-cycle #25 (it is 58.4/1.26 = 46.3 microtesla).
A diverse phenomenon of solar activity is apparently a side effect of a plasma dynamical system, which is formed in the solar convection zone (and on its borders) and is in a state of weak chaos. SSN time series is one of the observable manifestations of solar activity. And although, to my knowledge, the chaotic origin of SSN time series is not yet proven, its behavior, at first glance, looks very irregular. However, on closer examination, one can find in SSN time series some regular temporal structures, which are described in the SG-model by three types of G-peaks (2), namely, GGL-peaks with w ~ 30 years (they describe the regular behavior of Gleissberg cycles); GK-peaks with w ~ 30 months (they describe the behavior of regular 11-year solar cycles), and GU-peaks with w ~ 30 weeks (they describe a regular component of the SSN fluctuations with the period of 1.3 years). SG-model is not a physical, but a phenomenological model, in which the elementary methods of mathematical statistics are used. There is no visible physics in it, but basic physical concepts about the origin of solar cycle lay down in its base. The issue here is not that I, being a physicist, want to do without physics, but the fact that the physics of the main elements of SG-model is still insufficiently known. Indeed, there is no appropriate physical model of the Sun's Great Conveyor Belt (SGCB), which apparently determines the behavior of the Gleissberg cycles; there is no discussion about three-component structure of the 11-year S-cycle; there is no physical model of the 1.3-year oscillations, which are clearly presented in the U - data.
The fact is that (according to some sources) the horizon of predictability for the solar cycle is only a few years, and so any attempt to build a long-term forecast of S-cycle looks unprofessional. From the other side, to have such a forecast is very interesting (and in some cases, very important). Here the President Eisenhower's aphorism, applied to such a complex system as the human society, comes to mind: "plans are useless, planning is priceless". Replacing one notion by another close one, it would be to said with respect to the solar activity: "forecasts are useless, forecasting is priceless". Indeed, "wittingly doomed" attempts to forecast S-cycles have led to detection of a number of connected features of solar activity, which ultimately lead to better understanding of the S-cycle and properties of the SSN time series. Working with the SG-model for more than 10 years, I was convinced in this from my own experience. The hope is that the SSN time series is only weakly chaotic, and therefore it is possible to consider SSN time series as a regular process with a slightly fluctuating parameters of the elements of solar activity (in the SG-model it is G-peaks) and relatively rare anomalous deviations from regularity (indeed, of 23 S-cycles, only two (cycles # 12 and 19) are really anomalous). Fig.5 illustrates the view of the recent solar activity and its forecast from the standpoint of the SG-model on the background of solar research projects and the projects of manned missions in the hither heliosphere.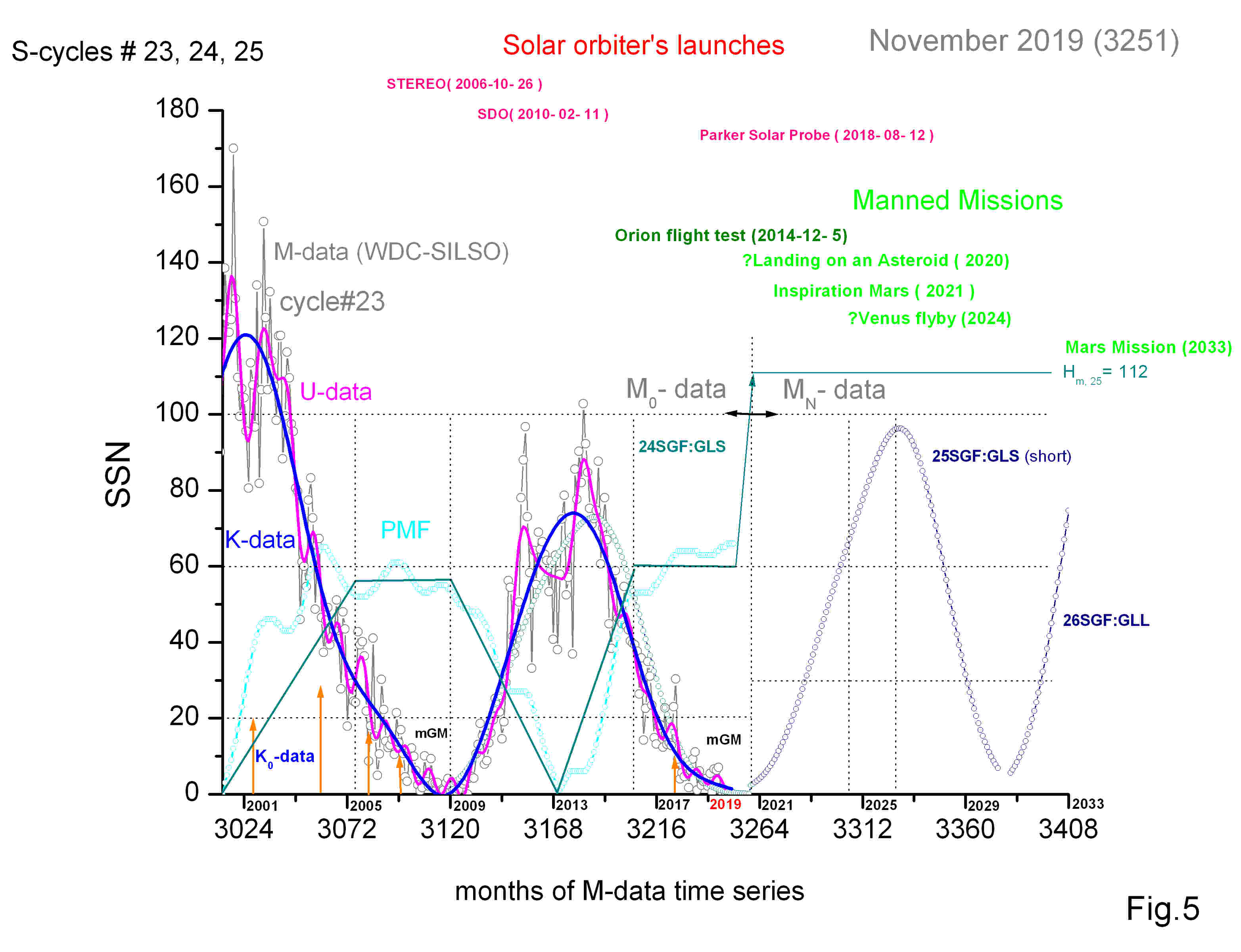 Solar dynamo problem bothers physicists for almost a century . After fundamental ideas of Larmor (1919), Cowling (1933) and Parker (1955) the long period of search of the realistic dynamo models and ratio between advection and diffusion in the processes of generation and transfer of the magnetic fields in the convective zone has come (Petrovay, 2010). Helioseismology (Kosovichev, 2011) has made and is making major adjustments to the theoretical understanding of the structure of the CZ: its lower boundary ( tachocline ), DOUBLE-CELL MERIDIONAL CIRCULATION pattern (Zhao et al., 2013), properties of the upper subphotospheric granulation layer. Given the increasingly complex picture of the processes in the CZ and on its borders, one should be more attentive to the observed variations in solar activity, including variations of the solar cycle (S- cycle) shape, in an attempt to associate these long ( for centuries ) observed variations with new ideas about the structure and processes in the CZ. As the SG- model shows, the parameters of S-cycle's shape are quite stable, what allows to develop a fairly accurate prediction of SSN time series. However, the reasons for the stability as well as significant deviations from the forecast can be understood (and, consequently, predicted) only on the basis of an adequate physical model of the solar dynamo . The immediate prospects for the development of such a model are described in Karak et al. (2014): "Over the past few decades, kinematic mean-field and FTD models have developed in parallel to MHD simulations, unfortunately with relatively little cross-fertilization. On the one hand, because of their relatively modest computational requirements mean-field dynamo models, such as FTD, are likely to remain the workhorse of investigations regarding solar cycle prediction, and the modulation of solar activity on long timescales, including Grand Minima. They also offer a computational framework within which to investigate efficiently the joint action of turbulence and flux emergence, albeit in simplified form. This can provide useful guidance for the design of MHD numerical simulation of the solar cycle, in which systematic exploration of parameter space is impractical. Numerical simulations, on the other hand, can provide quantitative constraints on key transport mechanisms and source terms currently implemented in a largely ad hoc manner in most kinematic models. They can also provide crucial information on the dynamics of large-scale flows important for dynamo action, which is inaccessible to kinematic models by their very design. Cross-fertilization is mutually beneficial, and this review has attempted to identify areas where this could be most productive in the context of FTD models. A true unification of FTD models and convective dynamo simulations can only come about through an improved understanding of flux emergence. Elucidating how convective dynamos produce emergent toroidal flux structures through the combined effects of rotational shear, magnetic buoyancy, and turbulent transport is a prerequisite to clarifying the role of flux emergence in the origin of magnetic cycles. Does flux emergence play an essential role in the operation of the solar dynamo, as in FTD models that rely on the Babcock-Leighton mechanism, or is it merely a superficial by-product of deeper-seated dynamics, as suggested by the presence of magnetic cycles in current MHD convection simulations lacking emerging sunspots and active region? From the perspective of the four dynamo ingredients (identified in Sect. 5.1), this is perhaps the most pressing. We can summarize the central issue with a more general restatement of the BL paradigm: how can the process of flux emergence promote the generation of a mean poloidal field? Though MHD simulations may not achieve a comprehensive depiction of the solar dynamo in the next decade, they can and will provide new insights into this central question, together with increasingly sophisticated FTD models and continuing observational scrutiny of solar magnetism and large-scale flows. Progress on this front has recently been reported by Yeates and Muñoz-Jaramillo (2013) who presented a novel 3D kinematic FTD model with an algorithm for flux emergence inspired by MHD simulations and calibrated with solar observations. The ideal testbed for investigating the relative roles of the BL mechanism and convective field generation (as modeled by the turbulent α-effect) may be Grand Minima . In particular, convective field generation may account for the residual cyclic activity during the Maunder Minimum (Beer et al. 1998) and may provide a mechanism for pulling the Sun out of a Grand Minimum. Other areas where the synergy between MHD simulations, FTD models and solar observations may potentially yield transformative insights in the coming decade include magnetic flux transport , the more general manifestations of solar cycle variability (including but not limited to grand minima and grand maxima; and the linkages between large and small-scale dynamo action". Incidentally, I hope that the results, obtained with using of the SG- model, can be used in the developing of such an adequate physical model of the solar dynamo .
the last update: 3/3/2016
So, what do we learn applying SG- model to SSN time series?
I must say that in the study of solar activity, there are two aspects - practical and theoretical. They, of course, closely related, but there are differences. The practical aspect aimed to use the beneficial properties of the SA and to protect from its negative effects, and its main mean is the expanding of monitoring of solar activity, space weather and so on (Kontor and Somov, 1998). At the same time the theoretical aspect aimed on the solution of solar mysteries, one of which is the nature of the solar cycle. This puzzle exists more than a century and it was not resolved even during such a creative 20-th century; therefore it moved into the 21-st century, along with associated general physical problem of turbulence and mathematical problem of solving of the Navier - Stokes equations. Generally speaking, it is known that science adheres (until a certain time) some paradigms and science is subject to fashion. For the solar cycle a paradigm is "MHD - dynamo" (see Ossendrijver (2003) and Charbonneau (2010)) and a current fashion is "Flux Transport Dynamo" (FTD) - models (see Choudhuri (2012)), "in which the toroidal field (TMF) is produced by differential rotation in the tachocline, the poloidal field (PMF) is produced by the Babcock - Leighton mechanism at the solar surface and the meridional circulation (SCB) plays a crucial role". And this role is to arrange the solar activity (particularly for us - the structure of SSN time series) in a large scale (across the whole convective zone) and in the long term (about 10 S-cycles, or one Gleissberg cycle). Working with the SG-model, we are able to indirectly monitor changes of TMF in the tachocline (variations of sunspot numbers (SSN)), changes of PMF on the surface of the convective zone (using WSO observations) and, as we shall see below, changes of the mode of meridional circulation (or the Great Sun's Conveyor Belt (SCB or simply CB)).
Let's start with small scale and will move towards ever larger scale. We miss the shortest from the mentioned above five types of quasi - regular temporary structures, connected with the solar rotation, and immediately turn to the U- data, which can be described by G U, i -peaks ((2), see also table 1). These peaks have a width at the base TU =2·w = ~ 17 months, but partly overlap and their closeness C = [ΔX/(2·w)] = ~ 0.64. III. 11. Origin of G U, i -peaks could be spatial (if you imagine that TMF in the tachocline splits into bundles and meridional circulation (CB) occurs across them (see Kontor and Khotilovskaya (1988) and Kontor (1991)), temporal (connected with transverse vibrations of the tachocline (see Howe et al. (2000)), or mixed. The next quasi-regular temporary structure is 11-year S-cycle, which consists of three G K -peaks (see tables 1 and 2). III. 12. Every G K -peak is "responsible" for the process of TMF floating to the solar surface as a result of the CB impact on the tachocline, firstly in its high-latitude part (P-component), then in its middle part (B-component) and finally in its low-latitude part (D-component). It is possible that the properties of sunspot groups and the corresponding them active regions are different for those different parts of the tachocline. Here it should be noted the observed interaction U- and K- peaks, which manifested in the noticeable (especially for not very high S-cycles) increase of the U-peak height when K- peaks reach the times of their maximums (see figs 3, 4 and 5). The next quasi-regular temporary structure is 110 - year Gleissberg cycle. Most impressively it looks like a variation of H P, i (t), GL-cycle, see fig.2. During GL-cycle, 11-year S-cycle shows all possible amplitudes, lengths and shapes. By the way, there are few possibilities: by and large three (see II. 6, II. 7). Another feature of the GL- cycle is a temporary distance between the maximums of the neighboring GL-peaks (T CB ), which changes regularly from big ~ 65 years (between GL-cycles) to relatively small ~ 40 years (inside GL-cycle). III. 13. It is tempting to identify T CB with the turnover time of meridional circulation (CB) and to explain Gleissberg cycle as a quasi-regular, but multi-step process of Sun's Conveyor Belt interaction with the tachocline, which results in the interconversions of TMF and PMF and is accompanied by the solar activity. III. 14. During the evolution of GL -cycles there are two types of abnormalities in S-cycles. The first type of anomalies is the appearance of S- cycles that differ significantly from the expectations of SG- model (for example, #12 and #19, see fig. 2). The second type of anomalies is a temporary disappearance of the normal S-cycles, and with them, and GL-cycle (it is well known Grand minima). This indicates violations of the regular regime of solar activity, but the observed anomalies are relatively rare. FTD models attempt to explain Grand minima by means of critical reduction of the CB velocity (Karak (2010)), which would lead to a substantial increase of T CB . III. 15. The last quasi-regular temporary structure of SSN time series is the ~1000 - year SAEs, which include adjacent periods of very low (Grand minima) and relatively high (Gleissberg cycles) solar activity (6,7,8,9).